Welcome to
Big Rock Campground
---
A Full Service, Family Campground
Enjoy the great North Country
---
The pristine mountains of New Hampshire are an outdoor enthusiasts paradise! Spend the day riding some of the finest ATV trails, including the NCATV Club trails, featuring 125 miles of private trails; and the NH state "Ride the Wilds", with 1000+ miles of trails, both accessible directly from Big Rock Campground. You can also enjoy time fishing, canoeing, or kayaking the Connecticut River, hiking mountain trails, driving or motorcycling scenic roads, discovering quaint towns, covered bridges, and abundant wildlife. Come discover the unspoiled beauty of The Great North Woods!
---
Owners, Gary and Kim Kirk invite you to stay at Big Rock, where you will discover camping at it's best! Nestled on 89 acres, Big Rock Campground offers families a friendly, relaxing, peaceful atmosphere. Refresh after a full day of riding in our sparkling pool, enjoy a game of horseshoes, visit with old friends and make new friends at the pavilion, or just relax around the campfire. Come see what Big Rock Campground and The Great North Woods has to offer!
---
---
Call us today for information on rates or to make your reservation. You can also contact us online by clicking here.
---
---
Find us on Facebook!
Keep up to date with seasonal events and other campground activities.
---
Amenities and nearby Attractions
---
We have something for everyone! Listed below are just a few of the things that make Big Rock Campground a fun place to stay.
---
---
Campsites with picnic tables and fire rings. Limited sites available for RV's over 40'
Swimming Pool
Direct ATV trail access to over 1000+ miles of trails
Store offering camping supplies, ice, and firewood
Family style bathhouses
Rustic Cabins
WiFi access
Playground
Pavilion with gas grill
Seasonal campsites
Family and Pet friendly atmosphere!
89 acres for hiking and enjoying nature
Nearby Attractions

Fishing
Hunting
Golfing
Canoeing/Kayaking the Connecticut River
Riverside Speedway
Santa's Village
---
Campground Map
---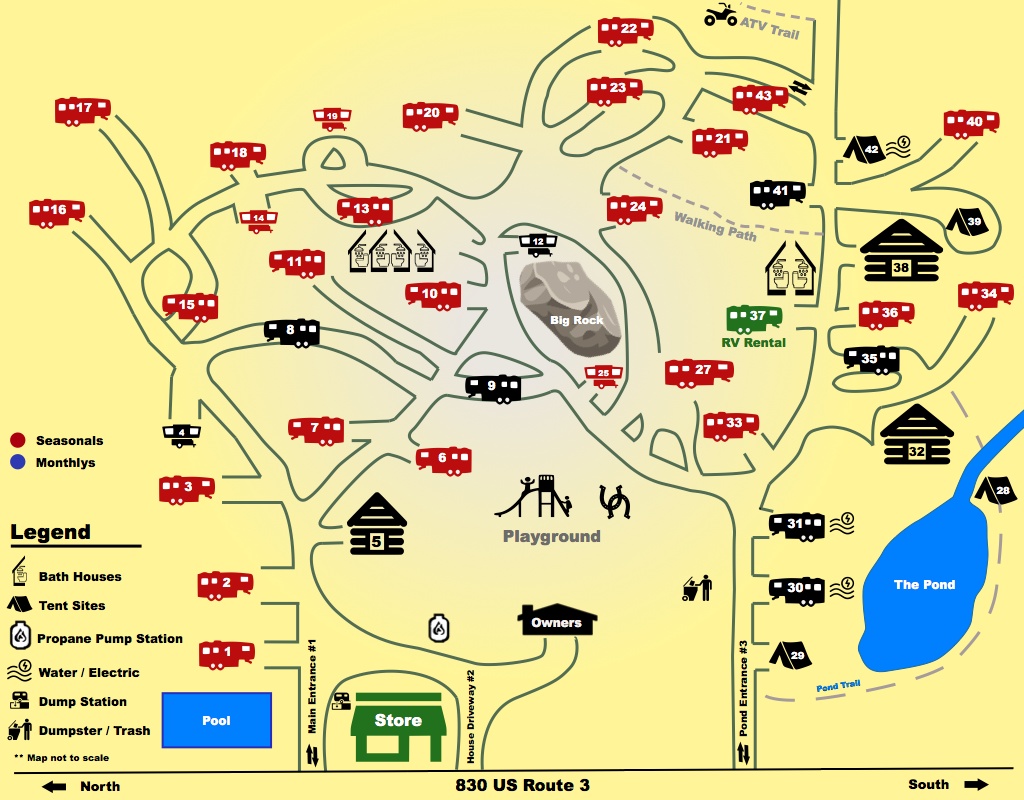 Campground Rules
To ensure a good camping experience and the safety of all guests please adhere to the following:
Strict 5 mph speed limit for all vehicles and ATV's in the campground. Please watch for children playing.
Quiet time is from 10 pm to 8 am and is strictly enforced. NO excessive noise during these hours. Turn off all radios and outdoor tv's. Refrain from loud activities or noise, including loud conversation. Noise at any time of the day must not be bothersome to your neighboring campers. If you have to be asked more than once to be quiet after 10 pm you May be asked to leave immediately without a refund of camping fees. No generator use without prior permission from the office.
ALL ATV's must be back in camp and at your site with engines turned off before DARK.
ATV's are to be used for trail riding only not laps around the campground. You can use your ATV's to ride to the store or pool. Please ride ONLY on the campground roads, not through other campsites or any wooded areas within the campground. No riding out before 8 am OR after 10 pm - NO EXCEPTIONS.
Drunk or disorderly conduct or failure to comply with quiet time may be grounds for immediate expulsion from the campground without refund of camping fees.
Trash dumpster is located by the playground across from site 30. Please use the dumpster for daily household trash only. We recycle #1 plastic bottles. We also recycle aluminum cans. Recycle cans are located behind the store. Please remove caps from the bottles and throw them in the trash, not in the recycle containers.
Please do not litter in the campground or on the ATV trails. Do not throw cigarette butts on the ground or in the fire rings. Do not burn trash in the fire rings. Leave your site and the ATV trails as clean as you found them.
For your safety do not leave food or trash outside of your RV or tent overnight. Leaving trash or food outside could attract wild animals including bears.
Swimming is at your own risk. Children 13 and younger must have parental supervision while in the pool area. No food in the pool area. Drinks in plastic or aluminum cans are allowed. Pool Is restricted to Big Rock Campers and their paying guests only.
Pets must be kept on a leash or tie out not longer than 6 feet at ALL times when outside of your camper or tent. It is your responsibility to pick up after your pet! Do not leave dog waste on the ground or bury it anywhere in your site or the campground. Dogs are not to be allowed in wooded areas to do their business. Bags for cleanup are on the pole at the Big Rock or you can get some in the store (free!). Pets are not allowed in the pool area, the store, the cabins, or the RV rental.. Do not leave pets unattended at your site. Any pet that is a nuisance or threat to other campers or pets will need to leave the campground Immediately - no refunds will be given!
Big Rock Campground will not be held liable for damage or injury caused by a camper's pet.
Please use the bathrooms for their intended purpose only. Do not flush anything down the toilets other than toilet paper. Sanitary pads and tampons should be wrapped with toilet paper and disposed of in the trash can. Do not enter showers with muddy clothes on.
Do not use sinks or showers to wash excess mud from clothing, personal items or to wash dishes in. There is a sink in the laundry room area that is provided for our tenting guests for dishwashing. Please do not dump grease down this drain! Please rinse heavy mud off of your clothes before using the washing machine. Dryer is for clean clothes only.
Reverse flush valves (e.g.) Hydro-flush, Flush King, RV Dual Flush etc.) cannot be used at campsite sewer connections. If you need to use one of these types of flush valves you may do so at the dump station ONLY. Per New Hampshire state law the use of reverse flush valves at sites can result in the backflow of contaminated black or grey water into the campground fresh water system.
Firewood - Please do not cut trees or limbs for firewood. Do not move fire pits as these have been inspected and approved for use by the Fire Warden. Fire height cannot exceed 2 feet high (about knee high). Do not leave fires unattended. Do not burn trash in fire rings. Store firewood at least 3 feet away from fire rings. Please extinguish all fires by midnight.
Please turn off your vehicle while parked outside of the store.
Nightly/weekend guest are not allowed to bring firearms to the campground. This includes BB guns, pellet guns, and paintball guns.
Fireworks of any kind are not allowed in the campground. If you are found lighting off Fireworks you will be asked to leave immediately without a refund.
Check out time is 11 am unless you have arranged a late check out with the office.
Internet streaming is prohibited as this slows the system speed for all guests.
Children 12 and under are not allowed to ride their ATV's in the campground without being escorted by an adult. They may ride to the store, only with adult supervision. Children are not to do laps around the campground or in the gravel bank area.
The playground closes at dark. Please make sure your children are back at your site by dark. After dark children 12 and under must be escorted by an adult when they are off of your site.
For insurance purposes ALL guests and visitors of registered campers MUST register in the campground office prior to proceeding to sites. Guests and visitors need a vehicle pass to enter the campground and are subject to daily day use or overnight fees.
Guests visiting for the day are not allowed to bring ATV's to the campground or use the campground access trail. There is a parking area in North Stratford where you can meet your guests with ATV's and access the trails from there. Visitors who ride their ATV's to Big Rock from other campgrounds or lodges still must register in the campground office.
Please plan ahead! Store hours are 9 am to 5 pm Tuesday through Saturday, Sundays 9 am to 1 pm, and is closed on Mondays. Please be sure to purchase everything you need during these hours. Firewood can be purchased at the store during business hours or at the campground house (near the store) after store hours until 9 pm. Exact cash only for after hours purchase of firewood.
Emergencies - there is a landline phone available in the store during business hours and an emergency (911 only) phone on the front porch of the office for after business hours.
---
Cabin and Campsite Rates
---
Rustic Cabins
---
Our cabins are one room log cabins with electricity, lights, beds, table and chairs, gas heater, ceiling fan, front porch, picnic table and fire ring. Bring your own bedding and towels.
We are a pet friendly campground, however, pets are not permitted in our cabins.
Smoking is not allowed in the cabins
No unregistered over night guests allowed in cabins
Log Cabins #5 & #32:
$89 per night, plus 9% NH Rentals Tax
Rates are for 2 Adults / 2 Children (17 years or under) or 3 adults (maximum). Additional $10.00 per night for the 3rd adult.
Queen Bed and one set of Twin Bunk Beds
Log Cabin #38:
$125 per night, plus 9% NH Rentals Tax
Rates are for 2 Adults / up-to 4 Children (17 years or younger) or 5 adults (maximum). Additional $10.00 per night for the 3rd, 4th, or 5th adult..
2 Queen Beds and one set of Twin Bunk Beds
Cabin Considerations:
Minimum 2 night stay on weekends. Holiday and event weekends are a 3 night minimum.
There is a $10.00 up-charge for one night cabin stays
Each additional adult in cabin is $10.00 per night, $5 per child. Max 3 adults in cabins 5 & 32, Max 5 adults in cabin 38
A $100.00 security deposit is required on cabin rentals at the time of check in payable by cash or credit card. Deposit will be refunded once cabin has been inspected for loss of contents or damage to cabin
---
Campsites
We offer a variety of campsites for both tenting and RV'ing. All campsites have a picnic table and fire ring. You can choose from wooded, open, near pool or a pond site.
$32 per night TENT sites (rustic, no hookups)
$36 per night TENT water & electric sites
$41 per night water & electric RV sites
$44 per night water, electric, & sewer RV sites
Rates are based on 2 Adults and 2 Children 17 or under. $9 each add'l adult, $5 each add'l child over 6yrs.
Monthly Full Hook up site - $850.00 plus metered electric
Monthly Water/Electric Site - $675.00 plus metered electric
Seasonal Site with Full Hook ups - please call for price information and availability.
Note:
Campground water system may be shut down right after Columbus Day weekend, depending on the weather. All of the above rates are based on 2 adults and 2 children 17 years old or younger.
---
Restrictions
Maximum 4 adults per campsite or 2 adults and up to 4 children 17 years or younger.
One night deposit is required on all reservations.; Reservations are not guaranteed until deposit has been received.
3 night minimum stay on Holiday weekends or during special events. Holiday and Special Event weekends must be paid in full at the time of reservation. No partial refunds at the time of check in.
Pets are subject to a $2 per night up-charge; maximum of 3 pets per site.
$15.00 fee for early check in before 12:30 pm, or $25.00 late check out fee up to 5 p.m. Early/late check in/out based on availability and must be approved by the office in advance.
Rates may be higher on holiday or event weekends
ATV width must be 65" or less
All ATV's must have stock exhaust systems - no modified pipes allowed no exceptions!
No dirt bikes or 2 strokes allowed
ATV's are checked at time of arrival
Vehicles - maximum 1-2 allowed at site depending on site size.
ATV trailers - can be kept at site as long as they fit within the site. If not then they must go to the overflow parking area. ATV's can be kept on site.
---
Please call for more information, or to make a reservation.
---
---
---
---
RV Rental
Book your stay in our 32' Salem bunkhouse RV rental! This unit has a queen size bed, a bunk room with 4 twin bunks, a full bath, and a kitchen with microwave, sink, and stove. There is a couch and dinette table as well. You will need to provide your own bedding including sheets, blankets, and pillows as well as your own kitchen and bath towels. There is a coffee maker provided for your use. A $100.00 security deposit is required at the time of check-in. This can be paid with cash or a credit card. If you use credit there will be a 3% processing fee on the charge and refund of the deposit. Cash will be held and returned at time of check out once RV rental inspection has been completed.
Rv Rates:
$130.00 based on 2 adults and 2 children 17 years or younger or 4 adults maximum. Additional $10.00 per night for 3rd and 4th adult.
---
---
Cancellation Policy
Reservations canceled at least 7 days prior to the arrival date will be refunded deposit less a $15.00 cancellation fee for tent sites, $20.00 for RV sites, RV Rentals, and Cabins.
Reservations canceled less than 7 days prior to arrival date will result in forfeiture of deposit.
No refunds for early departures or late arrivals.
Cabin cancellations require a 14 day cancellation notice for refund of deposit less cancellation fee. Less than 14 day notice will result in forfeiture of the one night deposit.

Holiday and event weekends - a one night non-refundable deposit is required on all holiday and event weekend reservations.

Reservations for 1 week or longer require a 20% deposit at time of reservation.
---
Burn it where you Buy It!
Transporting firewood threatens our forests by potentially giving a free ride to insects and diseases. Help protect New Hampshire's wild and scenic beauty by leaving your firewood at home when you travel. Visit www.nhbugs.org/firewood-campers to find locally sourced firewood and for more information.
Firewood is sold at Big Rock Campground store for our campers' convenience
---
Check in time 1:00 pm and Check out time 11:00 am
Coin operated washer and dryer on premises
Directions & Office Address
Mailing Address
Directions
Big Rock Campground.
830 US Route 3 No. Stratford, NH 03590 P: 603-922-3600
We are located on US Route 3 between Groveton, NH and North Stratford, NH.

From the south we are just past Mile Marker 183.2
From the north we are just past Mile Marker 183.4
Note:
GPS and OnStar are unreliable in the North Country!
PLEASE
use the mile marker signs as this is the best way to find us!
---